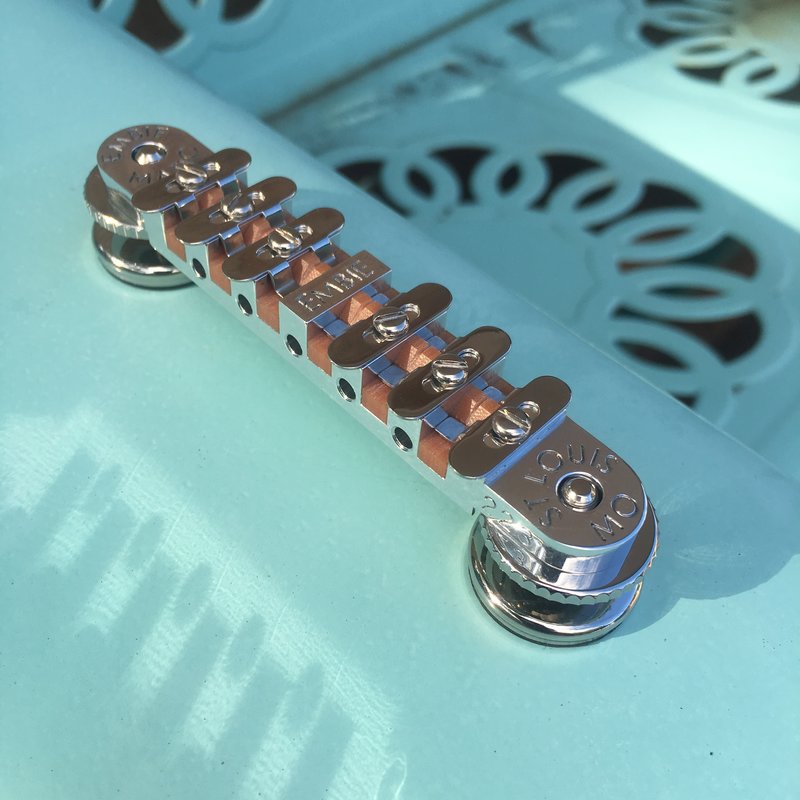 The Embie-Matic was born from the earliest Melita Synchro-Sonic guitar bridge design, patent applied for in the late 1940's and only produced until the mid 1950's. The original Melita Synchro-Sonic design was intended for archtop guitars, and predates most standard adjustable bridges. The original Patent Pending prototype Melita was made of cast aluminum. Once in production, heavier and more cost effective metals were used, and tall thumb screws replaced flatter pan-head screws locking the saddle clips in place.
We have improved upon this original bridge design using new materials and tighter tolerances. It is now more versatile, with many new saddle materials and bridge base options to choose from. From archtops to solidbodies, floating or permanent installations, and even adapter plates to accommodate certain guitars or Bigsby systems. The resonant musical qualities of high-grade aluminum is unmatched, offering acoustic improvements very clearly translated by the guitar's pickups.
The Embie-Matic celebrates the original prototype Melita Synchro-Sonic design intended to be light, resonant and smooth to the palm. Each Embie-Matic is proudly made and assembled in St. Louis, MO. Each bridge body is hand-polished, anodized and engraved with it's own serial number. For perfect intonation and a classic look, it's the Embie-Matic!